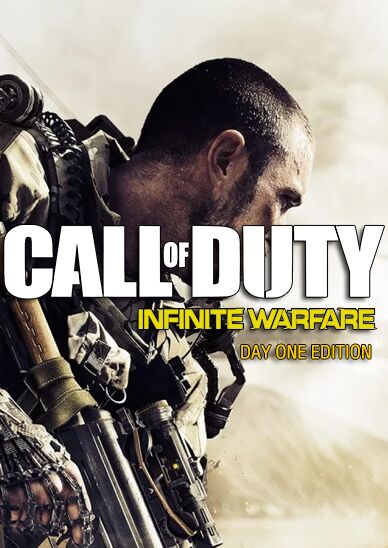 Call of Duty Infinite Warfare Day One Edition STEAM CD KEY EU
Platform

steam

Version

United States
Call of Duty: Infinite Warfare bringt die bekannte technologisch fortschrittliche Einstellung von Advanced Warfare weiter voran. In ferner Zukunft nutzt Infinite Warfare diese Gelegenheit voll aus.
Sie werden das Kommando über ein riesiges militärisches Raumschiff übernehmen, das als Drehscheibe dient, einen anpassbaren Düsenjäger durch Weltraumschlachten steuern, Energiewaffen einsetzen und fortschrittliche Kampfanzüge tragen, die Ihnen einzigartige Fähigkeiten bieten. Es gibt sogar einen Roboter-Begleiter mit voll funktionsfähiger und stabiler KI. Das Gameplay von Infinite Warfare ist ein Komplettpaket für jeden Fan von Ego-Shooter und Science-Fiction.
Faszinierende Solokampagne
Die Hauptfigur von Call of Duty: Infinite Warfare ist Nick Reyes, ehemals Leutnant von SCAR (Special Combat Air Recon), jetzt Kapitän des am Boden beförderten Militärflugzeugträgers Retribution und im weiteren Sinne der an Bord stationierten Truppen. Wie einige der letzten Verteidigungsanlagen der Erde werden sie gegen die Kräfte der Front für die Verteidigung fanatischer Kolonien kämpfen. SetDef wird von Salen Koch inszeniert, gespielt von Kit Harrington vom Game of Thrones.
Die Geschichte wird in Hauptmissionen der Geschichte unterteilt, die die Handlung vorantreiben, und viele optionale Nebenmissionen ergänzen die Umgebung und ermöglichen es den Spielern, mehr Orte zu besuchen. Die Missionen werden auf verschiedenen Planeten und sogar auf Asteroiden im Sonnensystem stattfinden.
Verbessertes Gameplay im Klassenzimmer
Multiplayer-Klassen basieren auf Kampfplattformen. Jede Plattform ist eine spezielle kybernetische Kombination, die dem Träger leistungsstarke Fähigkeiten sowie Waffen und Taktiken bietet, die für jede Plattform einzigartig sind. In Infinite Warfare stehen sechs Plattformen zur Verfügung, die für verschiedene Zwecke auf dem Schlachtfeld geeignet sind.
Warfighter - die Mittelklasse-Angriffsklasse, perfekt für Spieler, die gerne in der Offensive sind
FTL - unglaublich schnelle Kampfplattform, geeignet für Spieler, die den Run-and-Gun-Spielstil und enge Begegnungen mögen
Merc - der Spezialist für schwere Waffen, langsamer, aber mit starker Schadenskraft zum Ausgleich
Phantom - die Scharfschützenklasse, die sich hervorragend für Stealth- und Fernkämpfe eignet
Stryker - ausgerüstet für Teamunterstützung und Feindunterdrückung
Synaptic - eine ferngesteuerte Drohne, die mit SMG ausgestattet und für den Nahkampf vorbereitet ist